Alongside the exhibits inside the hall in 2018 we will have our platinum aircraft exhibits.
Listed here are the aircraft already booked to appear.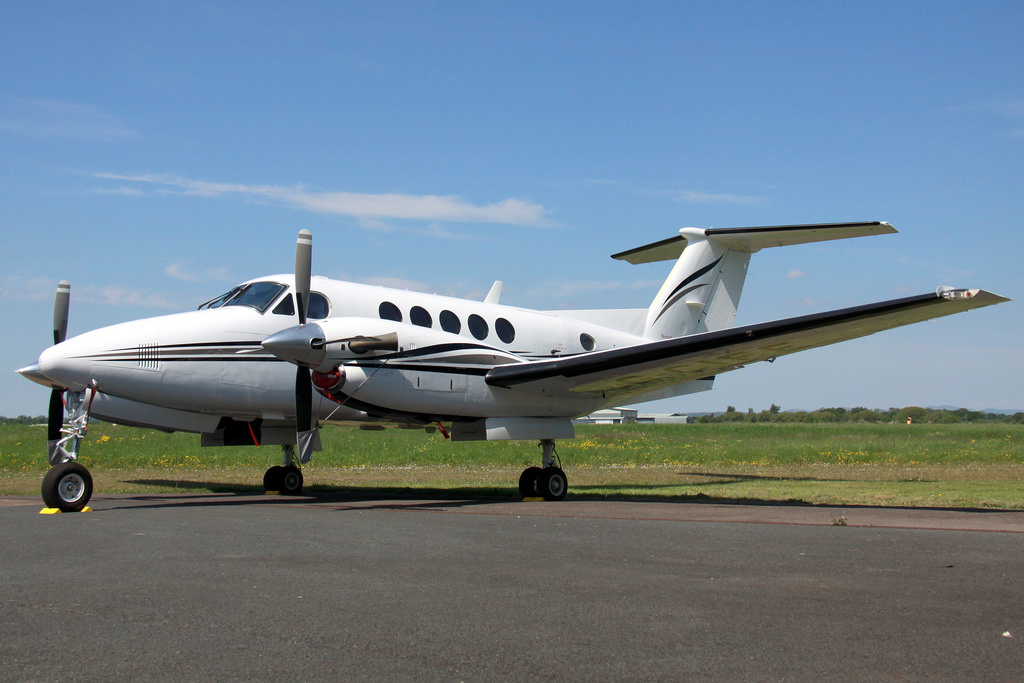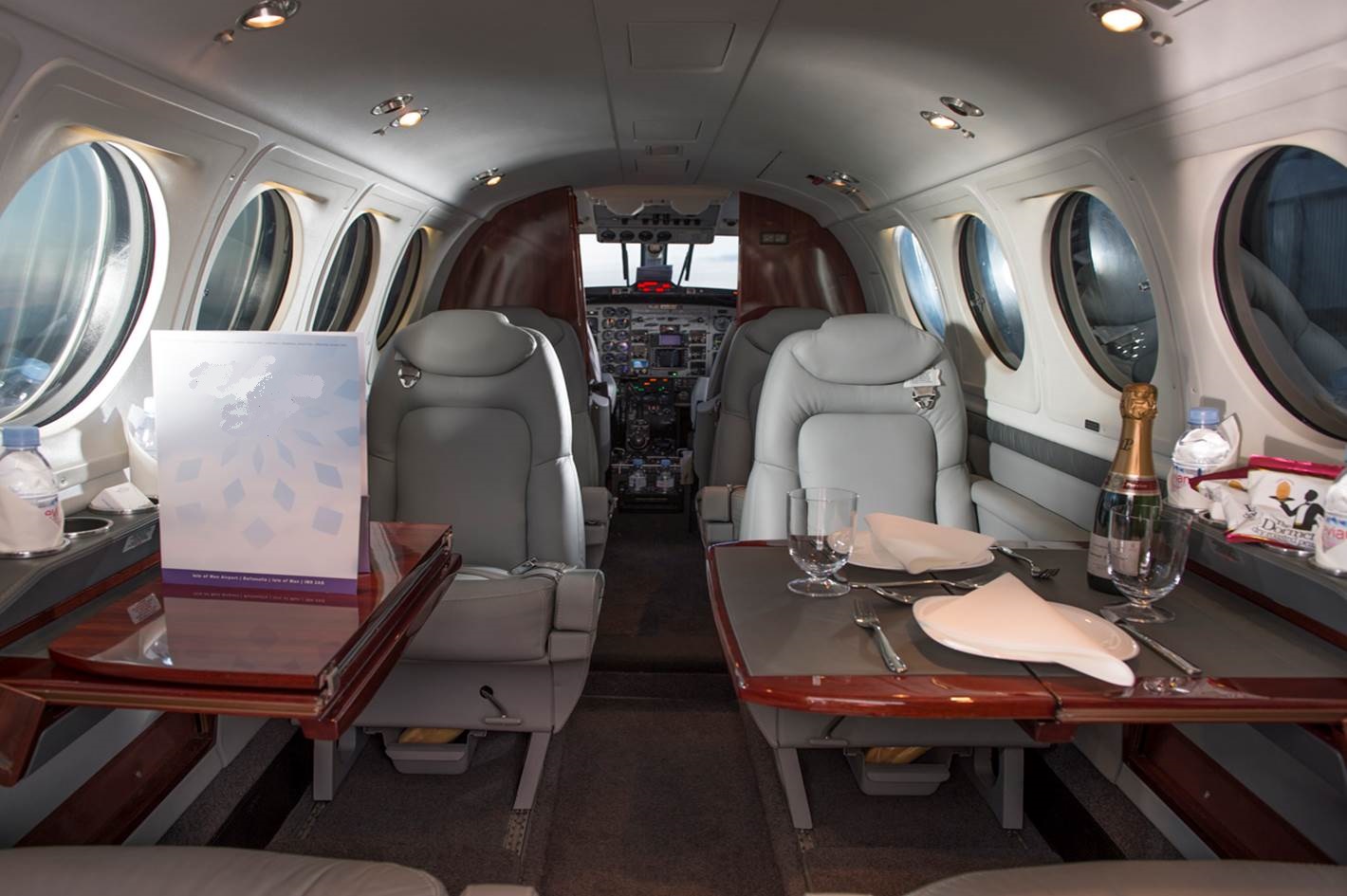 Beechcraft B200 King Air
2excel Aviation
G-CIFE. Range 1,000nm. Based at Doncaster. New interior in 2016. Passenger capacity 7.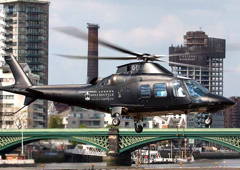 Agusta A109S Grand
Castle Air
Absolutely stunning executive twin engine helicopter, seating 6 passengers. The aircraft has recently undergone a full refurbishment. New full custom matt black paintwork and new VVIP grey & anthracite leather with carob fibre and brushed aluminium detailing plus new carpets, over mats & seatbelts.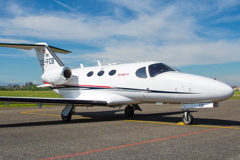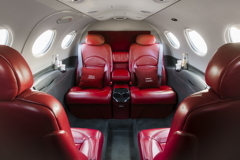 Citation Mustang
Globeair
Founded in 2007 and headquartered in Austria, GlobeAir takes pride in being the first mover in the Air Taxi sector in Europe, and among the fastest growing private jet charter operators. With the world ́s largest fleet of modern Citation Mustang jets, 16 aircraft in total, GlobeAir offers the finest solution for the modern traveler by ensuring direct access to those airports typically inaccessible to commercial airlines and larger private jets, with greater flexibility and premium quality service.
GlobeAir is certified for landing in more than 1,500 airports across Europe, including those typically out of the reach of traditional airlines and larger private jets enabling trips otherwise impossible with commercial airlines.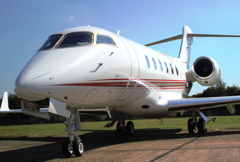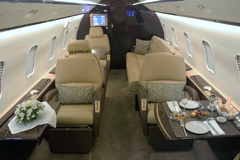 Challenger 300
Sovereign Business Jets
The Bombardier Challenger 300 leads the super mid-size private jet class with an enviable balance of performance, cabin environment and excellent value. G-KALS brings destinations such as Baku (5hrs 15) or Sharm el Sheikh (5hrs 30) within easy reach of London. The cabin, offering six individual seats and a three seat side facing divan, is beautifully appointed in light leather creating a spacious, comfortable environment in which to enjoy the benefits of private jet travel. The attentive cabin attendant service includes bespoke catering, refreshments and beverages. The luggage hold is accessible during flight and will accommodate eight suitcases, golf clubs or skis. At the rear of the cabin there is a fully enclosed washroom and toilet compartment.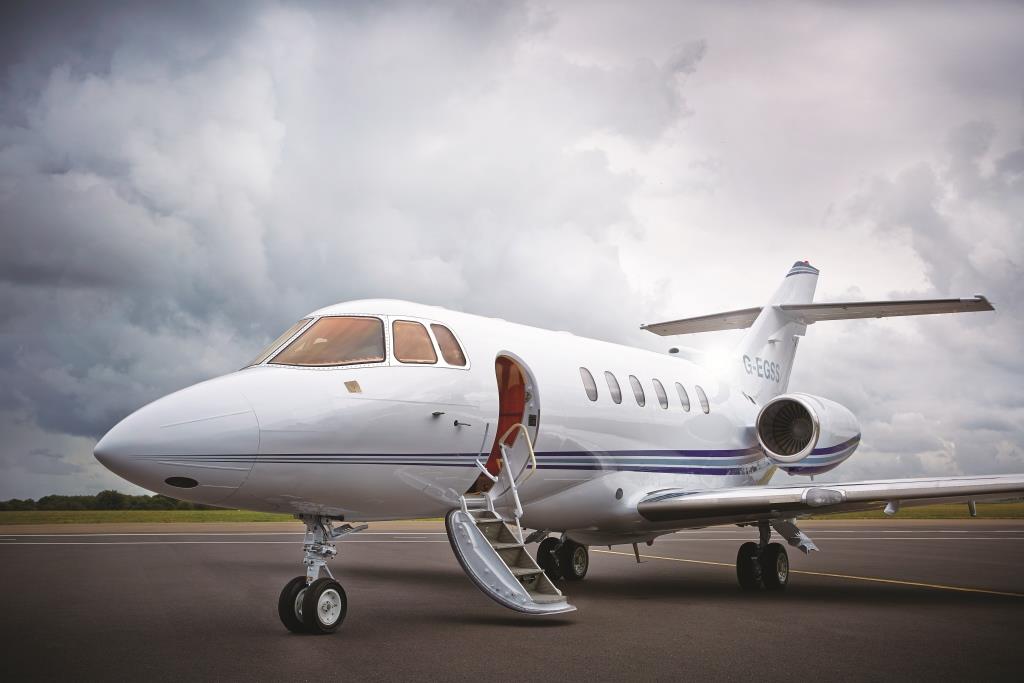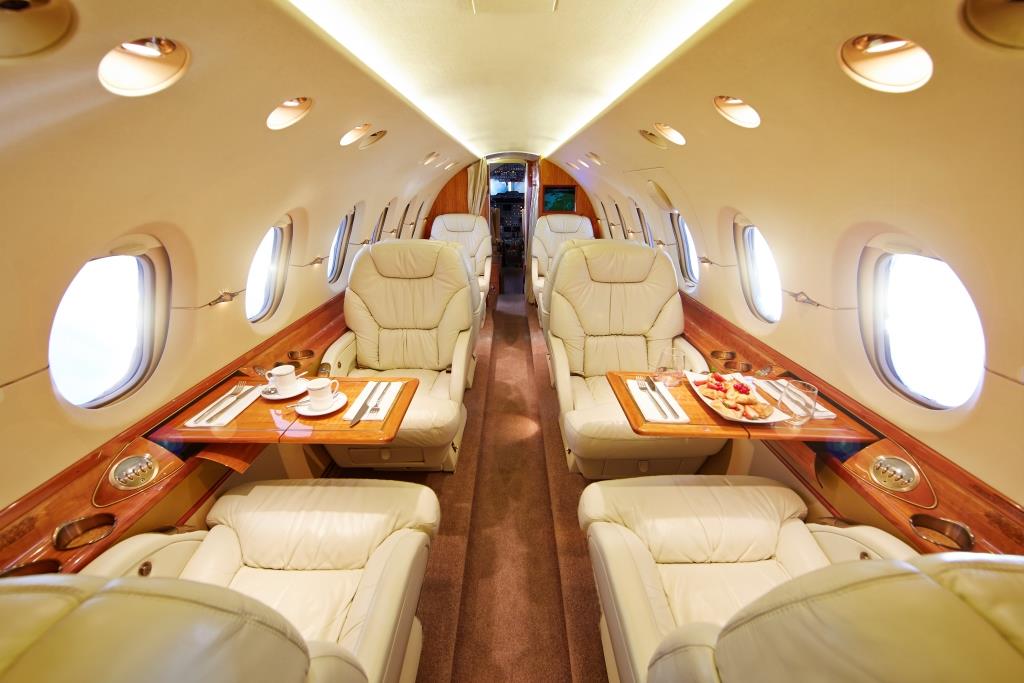 Hawker 800XP
Interflight, Biggin Hill
Fully refurbished in 2016, the Hawker 800XP offers exceptional comfort for up to 8 passengers. The unique double club configuration is perfect for passenger interaction, whilst individual tables and fully adjustable seats offer a spacious areas for on-board meetings, dining and relaxing. The 800XP is one of the most popular private jets on the market due to its unique combination of range, comfort, cabin size and speed. Based at London Biggin Hill, and certified to operate worldwide, the Hawker 800XP has a range of 2,600 nautical miles and endurance of up to 6 hours. The fully stocked galley can accommodate a range of hot and cold meal options, as well as a fully stocked bar, all served by a dedicated flight attendant. Stand up headroom across the entire length of the cabin allows passengers to move freely and access the generous baggage compartment and enclosed lavatory.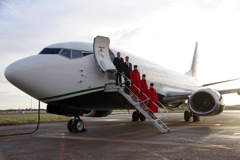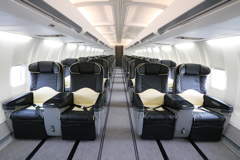 Boeing 737 VIP
2excel Aviation
Our VIP Boeing 737s were refurbished in December 2017 with a brand-new interior and new paint. Both are fitted with 62 VIP business class configuration with the option of a 56 seat which enables the Club Four option at the front of the cabin.
The VIP Boeing 737s are based at London Stansted (STN) in the luxurious Diamond Hangar but available to position and depart from any airport.
Every flight with 2Excel BroadSword is complemented with our VIP catering which served by our team of highly trained cabin crew, who all have vast experience in the VIP airline world. We have partnered with extremely experienced chefs and catering companies who can supply VIP catering worldwide to ensure we can cover all requirements.