Exhibitors at Air Charter Expo in 2017
Here is an alphabetical directory of exhibitors who will be exhibiting at ACE'17, with links through to contact details at the Handbook of Business Aviation.
Air BP
Gold Sponsor
Fuel & Lubricants
As the aviation division of BP, Air BP is one of the world's largest suppliers of aviation fuel products and services. It currently supplies over seven billion gallons of jet kerosene and aviation gasoline to its customers across the globe each year.
Air Culinaire Worldwide
611
Catering Services

Air Culinaire Worldwide, a Universal Weather and Aviation, Inc. company, serves in-flight catering to hundreds of airport locations across the globe. Since 2000, business and private aviation operators have relied upon the organization. With 20 owned-and-operated kitchens and hundreds of vendors on six continents, business aviation organizations receive the total in-flight catering experience from one resource: Air Culinaire Worldwide.
No matter where you are in the world, the Air Culinaire Worldwide Network is ready to fulfill expectations for your total catering experience to be simple and enjoyable.

AIR SUPPORT
406
Ops Software, Flight Support, Weather, Electronic Flight Bags
AIR SUPPORT specialises in pc-based flight planning software systems with integrated web based crew briefing services known as PPS – Preflight Planning System and CrewBriefing - aimed at corporate and commercial business aircraft operators, regional/charter/cargo, national airlines and military operators as well as service providers.  Today, the PPS solution is used by aircraft operators in 32 countries which daily operate more than 300 aircraft types and versions. The PPS software solution is powered by Lufthansa systems worldwide navigation data including all global route restrictions.
Air X Charter
503
Charter
ARGUS International
117
Data Services, Ops Consultancy, Safety
ARGUS International is the worldwide leader in specialized aviation services that allow organizations around the globe to improve their operational and business decision making.  ARGUS provides innovative safety, software, data and risk management solutions including: ARGUS commercial operator and charter broker ratings and onsite operational audits, PRISM Safety Management System solutions, and AVMOSYS flight scheduling software.  With 20 years of experience, ARGUS is the preferred partner for hundreds of companies who hold themselves to the highest operational and industry standards.
ASSA ABLOY Entrance Systems
101
Hangarage
ASSA ABLOY Entrance Systems' Megadoor brand offers specialized hangar doors for the aviation industry. The Megadoor hangar door is designed to meet any size or wind load and is the most energy-efficient door on the market. Our hangar doors are constructed with solid, heavy-duty, corrosion-resistant components, and operate with a reliable electrical system and sealed motors to prevent dirt and dust infiltration. Megadoor hangar doors are part of ASSA ABLOY Entrance Systems' full line of entrance automation solutions. We offer products and services dedicated to satisfying end-users needs for safe, secure, convenient and sustainable operations.
Avbuyer.com
113
Exhibitions/Conferences
Avbuyer Group :
AvBuyer Magazine
The global magazine for private & business aircraft for sale.
GA BUYER EUROPE Magazine
Europe's leading magazine for General Aviation aircraft
Avbuyer.com
Aircraft Sales website with Latest Business Aviation Intelligence and General Aviation reports online from AvBuyer.com
Avbuyer Events :
The Elite London, The Elite New York, Aero Expo UK, Heli UK Expo

Avfuel Corporation
317
Fuel & Lubricants
Avfuel Corporation is a leading independent supplier of aviation products and services. It supplies and supports a global network of over 600 branded fixed-base operators and over 3,000 fueling locations along with offering innovative pilot programs and services such as contract fuel, flight planning, aviation insurance and incentive programmes.
Avinode
313/314
Ops Software, Charter Sales Agents/Networks, Online Booking Platforms, Charter Brokers, Data Services
Avinode is the world's largest online marketplace for buying and selling private air charter. There are more than 7,000 aviation professionals using the system daily, with 3,200 aircraft listed in the Marketplace, and 450,000 flight requests processed a month. The Avinode Marketplace features online quoting, availability reports, integrated scheduling, empty leg reports and safety data. Read more on www.avinode.com.
BACA - The Air Charter Association
106
Associations
BACA represents the interests of commercial aviation companies particularly in the air charter industries and markets. Membership includes air brokers, charter airlines, airports, business aircraft operators, freight forwarders and consultants.
London Biggin Hill Airport
315
Airport
London Biggin Hill Airport is just 12 miles from central London and offers award winning VIP handling, a choice of three Executive Terminals, extensive hangarage, support and maintenance services for all ranges of business jets.

A designated Port of Entry, no runway slots and an exclusive 6 minute helicopter transfer service to and from the heart of London. Welcome to Biggin Hill, London's fast track gateway.

British Business and General Aviation Association
512
Associations
We are the UK influential voice for business and general aviation and our main objective is to support Business and General Aviation.
We are the UK's Trade Association for Business and General Aviation and we represents the interest of member companies at local, national, European and international levels.  We support and promote the growth and wellbeing of a profitable Aviation Industry here in the UK.  BBGA's task is to ensure that business and general aviation's importance is fully understood and appreciated by the public, local and central government.  We are proud of our track record and our reputation for technical expertise, political representation and practical experience and the wide professional network of associations and experts who contribute and support our work. 
We now have a dual agreement with EBAA so when you become a member of BBGA you will also be a member of EBAA. 
BroadSword Aviation (2Excel)
118
Charter
2Excel Aviation operates a number of business streams under its own UK AOC. These include: BroadSword, a personalised air travel service which currently manages three King Airs based at Sywell and Cambridge; The Blades Aerobatic Team, the only aerobatic display team in the world that also operates as an airline and provides a powerful platform for unique aviation events and flying experiences; Scimitar, which operates a fleet of three Navajo PA31 aircraft employing industry-recognised test and evaluation techniques and Sabre, contract air services that customers buy off the shelf.
Castle Air
616
Charter
With over 30 years experience in helicopter maintenance, management, charter, sales and aerial filming Castle Air can provide its clients with an unparalleled level of quality and service.
Castle Air have two facilities, one based in the South West and a new facility conveniently based at Biggin Hill Airport, London. We own our own fleet of luxury fitted Agusta Westland A109 turbine helicopters which are available for you to charter for business or private use.
If you are looking to purchase a helicopter, we are one of the largest AW109 dealers in the world. Our professional approach to sales, coupled with our ability to part exchange aircraft, ensures that customers remain with us for many years as they upgrade or renew their helicopters.
We are an Approved Agusta Service Centre and can offer maintenance to the very highest standards on either a contract basis or a one off service/repair. We also undertake aircraft upgrades and refurbishments.
We are unique in that we offer our customers a total end-to-end service. 
Cello Aviation
508 plus aircraft
Charter
Tailored for you in perfect detail
Our philosophy is straightforward - be the best.
The best crews, the best on board experience and the best support.
Based at Birmingham International Airport (BHX), we have the capacity and experience to position worldwide for your charter needs, delivering flexibility and excellence at all times.
We currently operate two highly capable airline size jet aircraft, luxuriously configured to satisfy the demanding needs of the VIP and executive travel market.
We have great experience working in partnership with a wide range of clients and our reliability and reputation results in a loyal client base. Built upon these foundations Cello Aviation has grown steadily and continues to be a class-leader in the private jet charter industry.
We are remarkable, specialist and driven to exceed expectations.
Centrik
416 + bag sponsorship
Certification Services, Ops Consultancy, Continuing Airworthiness Management, Crew Training, Electronic Flight Bags, Ops Software, Security, Data Services, Safety
Endorsed by major airlines, charter operators, Part-NCC operators, airports and civil aviation authorities across the globe, Centrik provides everything required to manage aviation operations, at your fingertips.
Centrik is fully EASA-compliant and developed by aviation professionals, who understand the unique challenges facing operators. Designed with your staff in mind, Centrik's easy-to-use interface makes filing reports or checking your operational status as quick and simple as possible. With modules to manage Risk, Safety, Compliance, Manuals, Documents, Meetings, Training, EFBs and much more, it's the only all-in-one management system for every element of your operation.
Charter Broker
201
Charter Brokers
Charter Broker is the only magazine specifically designed for passenger charter brokers worldwide. Every two months we present them with news about their industry as well as detailed reports about key industry issues
Civils Contracting
415/505
Hangarage
Civils Contracting Ltd are a private company based in Tonbridge, Kent.  We specialise in Design & Build projects where the Client needs a complete 'turnkey' construction service, we deliver with a very hands-on practical approach.
Our Clients say, "Civils are different because of the passion they put into the design and construction of their projects."
Close Brothers Aviation and Marine
Catering sponsorship
Finance & Leasing
Established in 1976, we have more than 40 years' experience in providing bespoke aviation finance solutions for our customers. Our in-depth knowledge means we consistently deliver a quality and efficient service. We can finance aircraft registered in the UK, USA, Ireland, and Isle of Man excluding those operated by major airlines and Armed Services. To find our more visit our website www.closeaviation.co.uk.
Down-Route
115/205
Ops Software
Down-Route is a unique, revolutionary web portal and mobile app which combines real time expense management and hotel booking in one place. It is free to use, allows unlimited users, offers the best price hotels and is bespoke to the business aviation industry. Over 100 operators have already signed up to use this time and money saving technology, so come and see the Down-Route team to see what all the fuss is about.
European Business Air News
111
Data Services, Exhibitions/Conferences
EBAN magazine is EMEA's leading business aviation title and the only magazine with qualified circulation to every owner and operator of a business aircraft in Europe, Russia, the Middle East and Africa.
Farnborough Aircraft Interiors
104/5
Interiors, Aircraft Parts, Modifications, Aircraft Painting, Aircraft Cleaning, Interior Design

Here at Farnborough Aircraft Interiors we are in the business of making your aircraft interior stand out from the rest. From a full interior completion to a small repair, we are ready to support you with the very best quality work and quick turnaround.

We can support our work with the approvals below, and are happy to work with any Part 21 J & G Organisations when it comes to certifying our work.
EASA.21J.125 Design Approval
DAOS Approval ALTG/07/03/11/309
UK.21G.2637 Manufacturing Approval
UK.145.01308 Maintenance Approval

FAI is based at our custom facility in Farnborough serving aircraft owners, MRO's and OEM's.

Established in 1986, we are now recognised as a leading specialist in corporate and private interiors for both fixed and rotary wing aircraft. All of our work is performed to the very highest standards by our skilled team and is backed up by a great customer and after-sales service.

Gloucestershire Airport
618
Airport
Voted the 'Best General Aviation Airport 2016'. Gloucestershire Airport is conveniently located between the Regency town of Cheltenham and the Roman city of Gloucester. With only a 3 minute drive from the M5 and A40, the Midlands and South West are all within easy reach. The airport boasts more than 250,000 sq. ft. of hangarage with around 180 aircraft permanently based, ranging from single seat microlights to multimillion dollar Executive Jets with a choice of specialist handling agents that can offer a full and comprehensive range of services for all types and size of aircraft.
H+S Aviation
202
Engine Services
H+S Aviation and Dallas Airmotive, BBA Aviation Group Companies are the leading independent OEM approved engine repair service providers for the B&GA and Rotory wing Market. Aircraft engine capabilities include Pratt and Whitney Canada PT6A, JT15D, PW500 & PW300, Honeywell TFE 731 and GTCP 36 Series APU and Rolls Royce Tay. Rotorcraft engine capabilities include Rolls Royce M250 & RR300, Pratt and Whitney PT6T, PT6C, & PW200 Series With our comprehensive capability, Dallas Airmotive and H+S Aviation are able to support 80% of the B&GA engines and APU requirements with field service, in house rapid repairs, LRU, extensive stock of used serviceable material, rentals & exchange engine options. www.bbaaviationero.com www.dallasairmotive.com, www.hsaviation.co.uk
Hayward Aviation
102/103
Insurance
Hayward Aviation is Europe's leading business and general aviation insurance broker. It designs, negotiates and places high quality, low cost insurance programmes for clients throughout Europe and further afield.
Hullo Aircrew
403
Flight/Ground Personnel
Connecting aircrew and operators, in one single space.
Make managing your working life simpler with hullo Aircrew; a new industry-first app to help aircrew find freelance work and operators find the right crew for the job.
It's also your digital PA - store or view key documentation, make or receive payments, book discounted training, and access a whole host of member benefits. 
Sign up for free at www.hulloaircrew.com
IAS Medical
Static display
Charter
Interflight (Air Charter)
Static Display
Charter
Interflight is one of the most experienced aircraft operators in Europe, with over 40 years' experience, specialising in private jet charter, aircraft management and aircraft maintenance. Based at London Biggin Hill Airport, Interflight operate a fleet of Hawker aircraft, including the newly refurbished Hawker 800XP, catering for both business and leisure charters. For more information please visit www.interflight.co.uk
ITIC - International Transport Intermediaries Club
112
Insurance, Legal Services
ITIC are the leading provider of professional indemnity insurance to aviation professionals.  Established 25 years ago, our portfolio of insureds includes air charter brokers, CAMO's, consultants, managers and aerospace designers. ITIC are BACA members and we consist of a small team of 16 underwriters and 2 in-house claims handlers, both of whom are legally qualified with experience of the aviation sector. We are headquartered in the City of London and are the only mutual insurer of professional indemnity risks.
Lektro
414
Ground Equipment
Aero Rep Ltd are distributors for Lektro, Aero Specialties, Avionics Specialist (ASI) and LJ Walch. Lektro manufacture a range of towbarless battery powered tugs capable of moving all fixed wing aircraft up to a MTOW of 82 tonnes. Aero Specialties manufacture and distribute a wide range of aircraft GSE including tow bars, lavatory and water carts, start carts, stairs and hydraulic maintenance units. ASI repair and sell avionics equipment and manufacture and calibrate test equipment, while LJ Walch repair and overhaul electrical components.
Martyn Fiddler Aviation
606
Importation Services, Ops Consultancy, Registration/Documentation
As Europe's leading aviation and VAT specialist, and part of the ICM Group, Martyn Fiddler Associates Limited is well known throughout the aviation industry for the quality of its advice and service. Aircraft and operators know that flying in the EU can create VAT and duty liability. Failure to deal with these issues correctly can be very expensive and lead to customs authorities seizing aircraft whilst the matter of how much is due in VAT, duties and fines is dealt with. Martyn Fiddler Associates, and sister company ICM Aviation, provide a number of solutions to deal with VAT and customs duties for their clients.  MFAL also offer a UK APD representation service for UK and non-UK clients.
Martyn Fiddler Aviation
606
Legal Services, Registration/Documentation, Ops Consultancy, Importation Services
ICM Aviation is part of the ICM Group of companies, founded in the Isle of Man in 1984. The Group operates from offices at London Stansted Airport and in the Isle of Man. ICM Aviation provides solutions to a number of inter-related issues including aircraft ownership, where to register, how to operate tax efficiently, how to insure the asset economically and how to deal with a range of administrative and operational issues. ICM Aviation works closely with associated company Inter-Continental Management Limited (ICM) to incorporate companies for aircraft ownership. Licensed by the Isle of Man Financial Supervision Commission as a Corporate Service Provider, ICM will incorporate and administer aircraft ownership structures.
Mountfitchet Risk Solutions
207
Insurance
Mountfitchet Risk Solutions are the specialist underwriting agency for the private charter industry offering tailor made insurance products. Introducing their flagship policy, AOG Protect, which indemnifies against the cost of providing a replacement aircraft in the event of an AOG incident, catering for even the most complex of charter fleets. Mountfitchet are partnering with Argus, a specialist aviation company who provide data to manage risk, and who's operator ratings are the most recognized independent source of overall operator quality.
Oaklands Global
413
Maintenance Personnel, Flight/Ground Personnel

Oaklands Global is a market leading provider of recruitment solutions for the international Aviation & Aerospace industries.
With over 20 years' experience in Aviation & Aerospace Recruitment, our dedicated team of experts pride themselves on their dynamic and professional approach to both Client's requirements and Candidate's expectations.
Our Clients: Commercial Airlines, Business Jet Operators, Rotary Operators, Military & Defence, MRO's, OEM's & FBO's.
Our Capabilities: Flight Crew, Cabin Crew, Engineering (EASA/FAA/ICAO Licensed & Unlicensed Engineers), Design,
Development & Production specialists, total Back Office functions and Senior Management/Board Level placements.

On Air Dining
404
Crew Training, Cabin Supplies, Galley Equipment, Concierge Services, Catering Services, Interiors
Since its inception in 2010, On Air Dining has led the field of inflight caterers on quality and innovation. After spending his formative years as a chef in some of London's most critically acclaimed Michelin starred restaurants, Daniel Hulme, had a vision to provide excellence in the air with his inflight dining creations. Having gone from strength to strength, today On Air Dining is proud to offer the pinnacle of inflight culinary experiences from its 2 fully Halal certified kitchens in Stansted and Farnborough, delivered by its own fleet of high-loaders. No requirement is too complex or demanding for the dedicated team of Inflight concierge specialists
Oxfordjet
206
FBO/Handler
Oxfordjet, run by London Oxford Airport, is one of the premier independent handling businesses (FBOs) in Europe, providing a service of exceptional quality along with an exclusive business aviation environment. The award-winning FBO has several crew and passenger lounges, crew snooze rooms, bedrooms, luxury bathrooms, meeting facilities with modern AV systems and handling facilities for airliners with up to 100 seats.
PayNode
Sponsor, 313/314
Online Booking Platforms
PayNode is the world's first payment service provider created to support the global business aviation industry. PayNode is the new way to pay for high value transactions: 24/7, 365. PayNode is set to offer instant payment settlement, notification and fund movement – independent of geographical location, currency and transaction value. PayNode presents a full end-to-end payment platform, through credit card payments and, soon to come, a global wire bank transfer network. PayNode increases speed of payments, simplifies cross-border payments and reduces back office inefficiencies. PayNode provides end-to-end security and transparency across the payment chain and significantly advances the whole payment process. Read more on www.paynode.com.
Piaggio Aerospace
602 Aircraft on static display
Aircraft
Priority Freight Holdings Ltd.
116
AOG Services
PrivateFly
Table tennis challenge
Charter Brokers, Online Booking Platforms
PrivateFly.com is an award-winning, free online marketing platform for charter operators, connecting them seamlessly with private jet customers and travel agents. It has been developed specifically to simplify the process of quoting for and booking private jet charter. Operators can log in to see customer flight requests and quickly submit a quote, which will automatically include their full aircraft specification and images.
RAS Completions
506/507
Interiors, Cabinetry, Flooring, Cabin Trim/Panelling, Hangarage, Aircraft Painting, Galleys, Interior Design, Lavatories, Seating/Upholstery
RAS is an established and respected aircraft interior and exterior completions company based in London. Offering complete interior and exterior aircraft solutions specialising in; repairing, painting and refurbishing both VIP and Commercial aircraft.
RAS carries out internal and external on-site refurbishment and can design/manufacture all galley, seating, lavatory and stowage requirements on various aircraft at our Biggin Hill facility – 30,000 sqft hangar and workshops.
RAS creates successful and impressive products through our exacting attention to detail, an empathetic understanding of our clients' ambitions, and a precise awareness of timescale and budget. We work with a large range of clients including both large global airlines and private aircraft owners. No matter the size of your project, RAS has the experience and expertise to meet and exceed your expectations.
RedR
107
REIDsteel Hangars
415/505
Hangarage
REIDsteel are a long-established family run firm of structural engineers based in Christchurch, Dorset. Established in 1919, we started our hangar business by manufacturing hangars for Louis Bleriot and have expanded our portfolio to include buildings for the largest jets in use today.

With an excellent reputation for the quality and cost effectiveness of our aircraft hangars and hangar doors we would be pleased to discuss your building requirements.

Revenue Scotland
513
Legal Services
From 1 April 2018, Air Departure Tax (ADT) replaces Air Passenger Duty on flights leaving Scottish airports. ADT will be collected by Revenue Scotland, which was established in 2015 as the tax authority for Scotland's devolved taxes, and has been successful in implementing a digital-focussed approach to tax collection, with almost 99% of tax returns submitted online in 2016-17. We are keen to work with the aviation sector to ensure a smooth transition to the new tax next year.
SaxonAir Charter
615
Charter
SaxonAir Charter Ltd is one of the leading UK charter operators with a mixed fleet of private jets and helicopters.  Aircraft range from the Citation Mustang through to the Gulfstream G550 and almost every category in-between.  Helicopters are both single and multi-engine with IFR Agusta A109's at the heart of the operation.
SaxonAir Flight Support
615
FBO/Handler
SaxonAir Flight Support Ltd provides a dedicated ground handling service for all private and business aviation at Norwich Airport, handling everything from light aircraft to the largest business jets.  Hangarage and long term parking available at a location convenient to Western Europe.
SchedAero
313/314
Ops Software
SchedAero, a wholly owned subsidiary of Avinode Group, is a web-based aircraft & crew scheduling software system designed for air charter operators, flight departments and private aircraft owners. SchedAero is fully integrated with the Avinode Marketplace, making it easy for smaller operators to keep their workflow streamlined by having all Avinode requests imported directly into SchedAero and access to all of the marketplace aircraft for any sub charter needs. Read more on www.schedaero.com.
Signature Flight Support
202
FBO/Handler
Signature Flight Support, a BBA Aviation plc company, is the world's largest fixed-base operation (FBO) and distribution network for business aviation services. Signature services include fuelling, hangar and office rentals, ground handling, maintenance and a wide range of crew and passenger amenities at strategic domestic and international locations. Headquartered in Orlando, Florida, Signature currently operates at more than 200 locations in the United States, Canada, Caribbean, Europe, South America, Africa and Asia. For more information, please visit: www.signatureflight.com or on Facebook at www.facebook.com/signatureflightsupport. Follow Signature Flight Support on Twitter: SignatureFBO
Sovereign Business Jets
616
Charter
Sovereign Business Jets specialise in discreet private aviation solutions including charter, aircraft management and acquisition consultancy.  As holder of Air Operator Certificate GB2393 Sovereign blends service excellence and operational expertise into one seamless client experience.
Up & Away Aviation Detailing
516
Aircraft Cleaning, Interiors, Catering Services
Up & Away Aviation Detailing serve the UK's private aircraft industry by offering a full range of interior and exterior valeting services by a highly motivated professional team.
The company was founded in 2006 by Stefan Murphy and the company grew through offering its valeting experience to over 30 jets for a management company based at Oxford Airport and recently buying out Avialogistics from Gama aviation plc 
Up & Away Aviation Detailing provide a full range of aircraft and helicopter cleaning services at any location throughout the United Kingdom and Europe when required.
Based locations at Oxford, Farnborough, Luton and Stansted. 
Weston Aviation
405
Charter Brokers, Concierge Services
Weston Aviation operates five FBOs across the UK and Ireland at Cork Airport, Durham Tees Valley Airport, Cornwall Airport Newquay, Robin Hood Airport Doncaster Sheffield and Humberside International Airport, and is the second largest FBO chain in the UK in terms of location. As specialists in the growth and development of regional airports, Weston Aviation provides superior ground handling, charter sales and concierge services.
WEX Europe Limited
318
Finance & Leasing
Zenith Aviation
515/606
Charter
At Zenith Aviation we offer a bespoke aircraft service ranging from charter flights for business or leisure, professional maintenance of your private jet, aircraft acquisition and sales service, and tailored management solutions, including EASA Part-NCC assistance. Based at Biggin Hill Airport, Kent, we are within easy reach of London, the rest of the UK and Europe. We provide support 24 hours a day, seven days a week, servicing the diverse needs of aircraft owners, charter clients and maintenance customers. We are committed to upholding unrivalled standards of quality, safety, and service.
Aircraft on display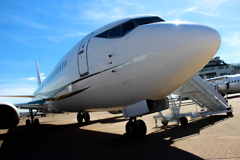 Boeing 737-300
Cello Aviation
Seating Capacity: 62 VIP or 56 VIP (with optional Club 4 Seater Tables). Range: 2,300nm. Cello offers a luxury flying experience aboard its newly refurbished all business class Boeing 737-300. Introduced into service in 2016 G-MISG is a market leader. With regular 737 hold space the aircraft offers the perfect balance of cabin size, seat pitch and of course the fantastic Cello experience.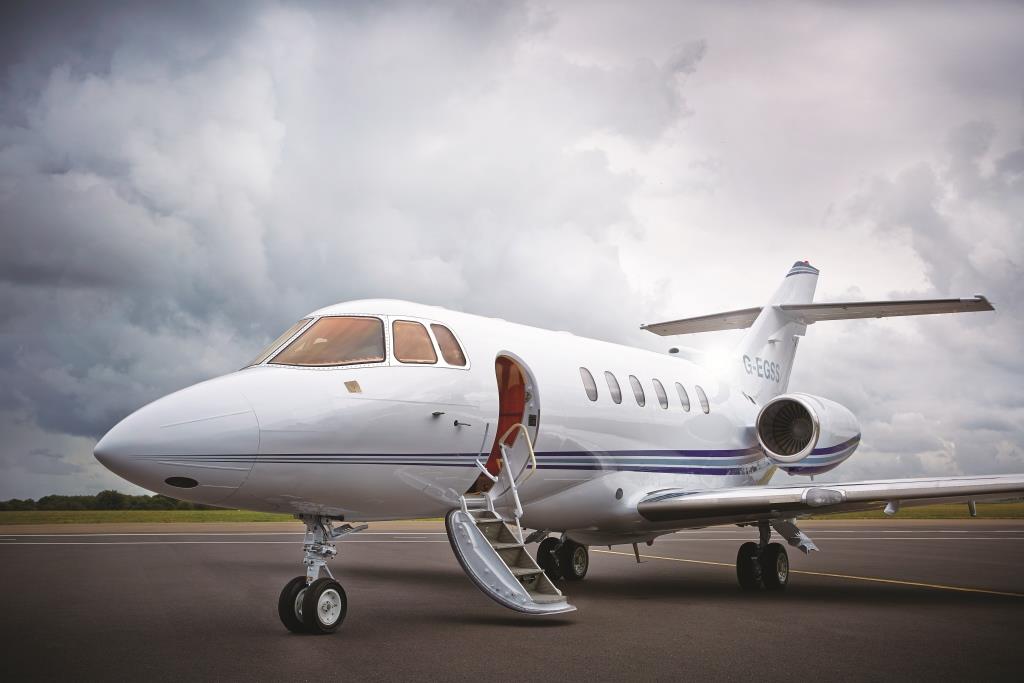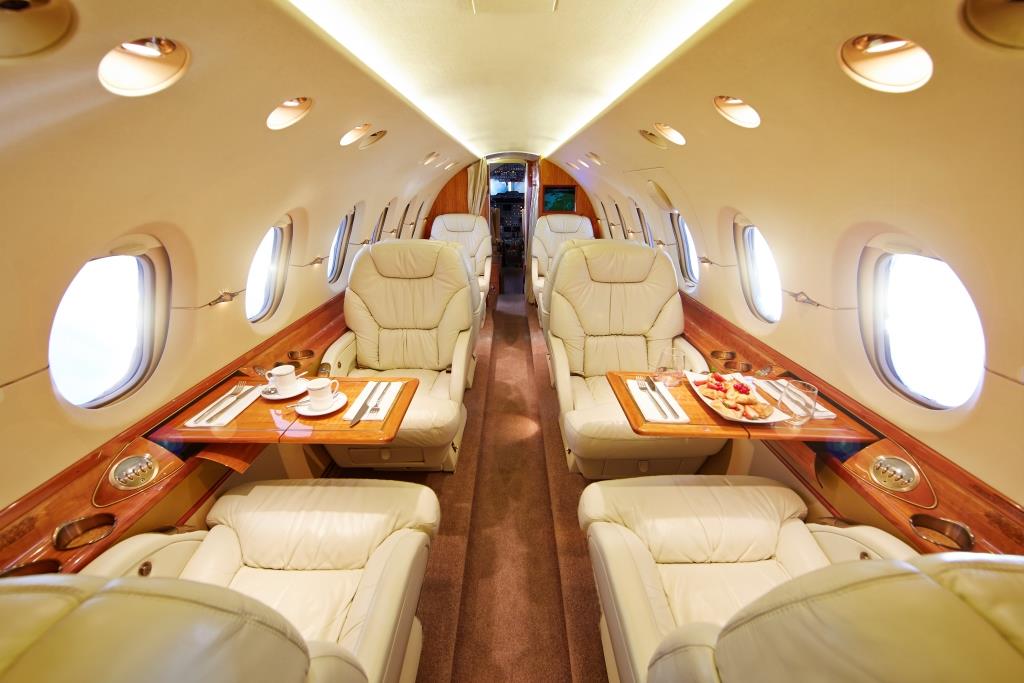 Hawker 800XP
Interflight, Biggin Hill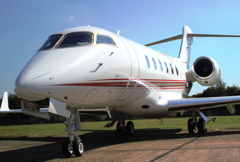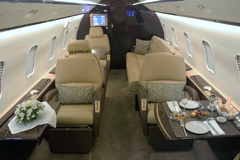 Challenger 300
Sovereign Business Jets
The Bombardier Challenger 300 leads the super mid-size private jet class with an enviable balance of performance, cabin environment and excellent value. G-KALS brings destinations such as Baku (5hrs 15) or Sharm el Sheikh (5hrs 30) within easy reach of London. The cabin, offering six individual seats and a three seat side facing divan, is beautifully appointed in light leather creating a spacious, comfortable environment in which to enjoy the benefits of private jet travel. The attentive cabin attendant service includes bespoke catering, refreshments and beverages. The luggage hold is accessible during flight and will accommodate eight suitcases, golf clubs or skis. At the rear of the cabin there is a fully enclosed washroom and toilet compartment.
Agusta A109S Grand
Castle Air
Absolutely stunning executive twin engine helicopter, seating 6 passengers. The aircraft has recently undergone a full refurbishment. New full custom matt black paintwork and new VVIP grey & anthracite leather with carob fibre and brushed aluminium detailing plus new carpets, over mats & seatbelts.